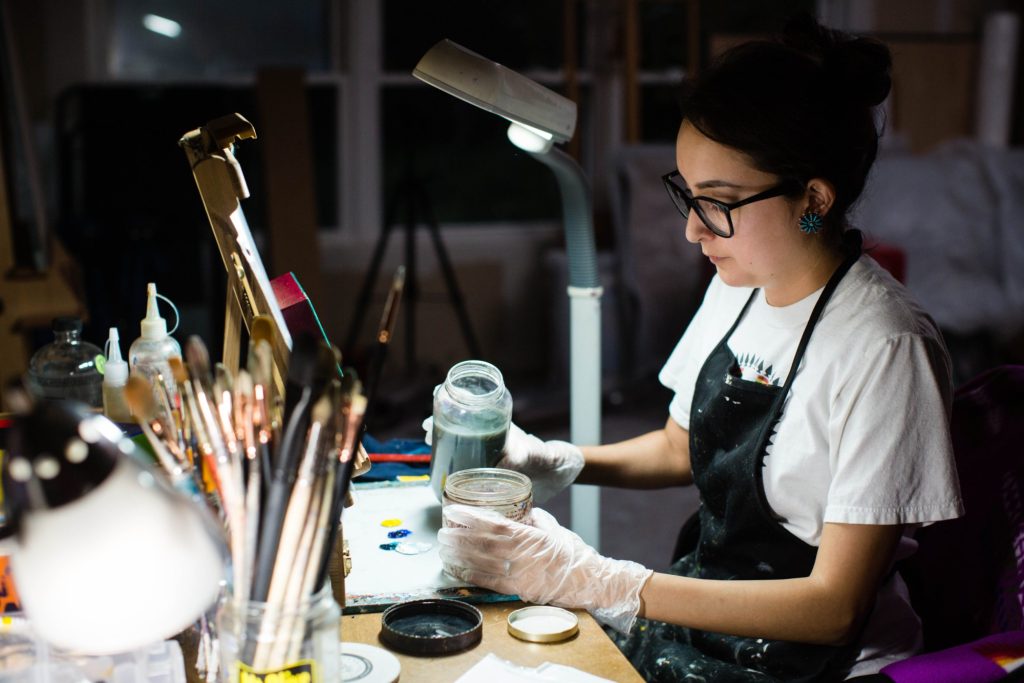 Throughout time, Native Americans have created objects of beauty for spiritual use and to celebrate their ideology. Native artist Amber L. DuBoise-Shepherd has taken on this role in life as well. She illustrates contemporary Native American narratives based on her family heritage of Navajo, Sac & Fox, and Prairie Band Potawatomi. She makes oil paintings, 2D and digital art.
Ms. Duboise-Sherpard received her Associates of Art from Seminole State College and finished her Bachelor of Fine Arts in Spring 2016 at Oklahoma State University. It was also this year that she opened her own business. She has taken her role as an artist serious, and her reward has been one to be proud of. She was accepted into Oklahoma Visual Arts Coalition (OVAC) Momentum exhibition, as a Spotlight Artist in 2017, 2019, 2020, 2021 and again in 2022. She also won grand prize and runner up in the IMAGEN Art Competition: "Native Traditions is Medicine: Resilience and Native Lifeways during Covid-19" in 2020. Her list of accomplishments is a testament to her dedication in a field that she is passionate about.
For her to get started, to really set herself apart as a professional in her business, her studio needed an upgrade. Through a partnership between Citizen Potawatomi Community Development Corporation (CPCDC) and the First Peoples Fund (FPF), she attended a training where she met a commercial loan officer with the CPCDC. This commercial loan officer was also a certified First Business Fund Business Development Trainer through the FPF. She said it was this connection that helped her understand just how a Native CDFI could help her, and her small business get the funding she needed. With this assistance, she was able to get the studio and display equipment she needed to branch out.
"The Citizen Potawatomi Community Development Corporation helped me get started in my art business by providing me with funding to acquire new display equipment for when I attend art markets as well as studio art equipment that I continue to use to this day. The CPCDC helped in guiding me in the process of applying for a business loan and answered any questions that came up in the process. Migwetch CPCDC Staff!" – Amber L. DuBoise-Shepherd
She said the process took under a month and she was grateful to have the support of a Native CDFI. Ms. Duboise-Sherpard said she now stands out as a professional.
If you are interested in learning more about Ms. Duboise-Sherpard and her artwork you can reach her at alduboise@yahoo.com by visiting her website, https://www.amberlduboise-shepherdart.com/ or on social media. Instagram: aldthewoods. Facebook Page: Amber L. DuBoise-Shepherd Art.
If you'd like to learn more about how the CPCDC might be able to help you and your small business contact us at 405-878-4697.
The CPCDC is a tribally chartered nonprofit corporation that provides capital and technical assistance for projects that create a healthy tribal economy through a commercial loan program tailor packaged to help Native American businesses become more competitive and profitable. The program can assist Tribal members who are lacking financial resources and readiness with business development and planning, managing finances and marketing, and contracting. The CDC also works with the Consumer Credit Counseling Service of Central Oklahoma to help individual Native Americans and Tribal employees develop financial literacy skills when budgeting and managing credit obligations. Learn more at cpcdc.org or on Facebook at @CPNCDFI.