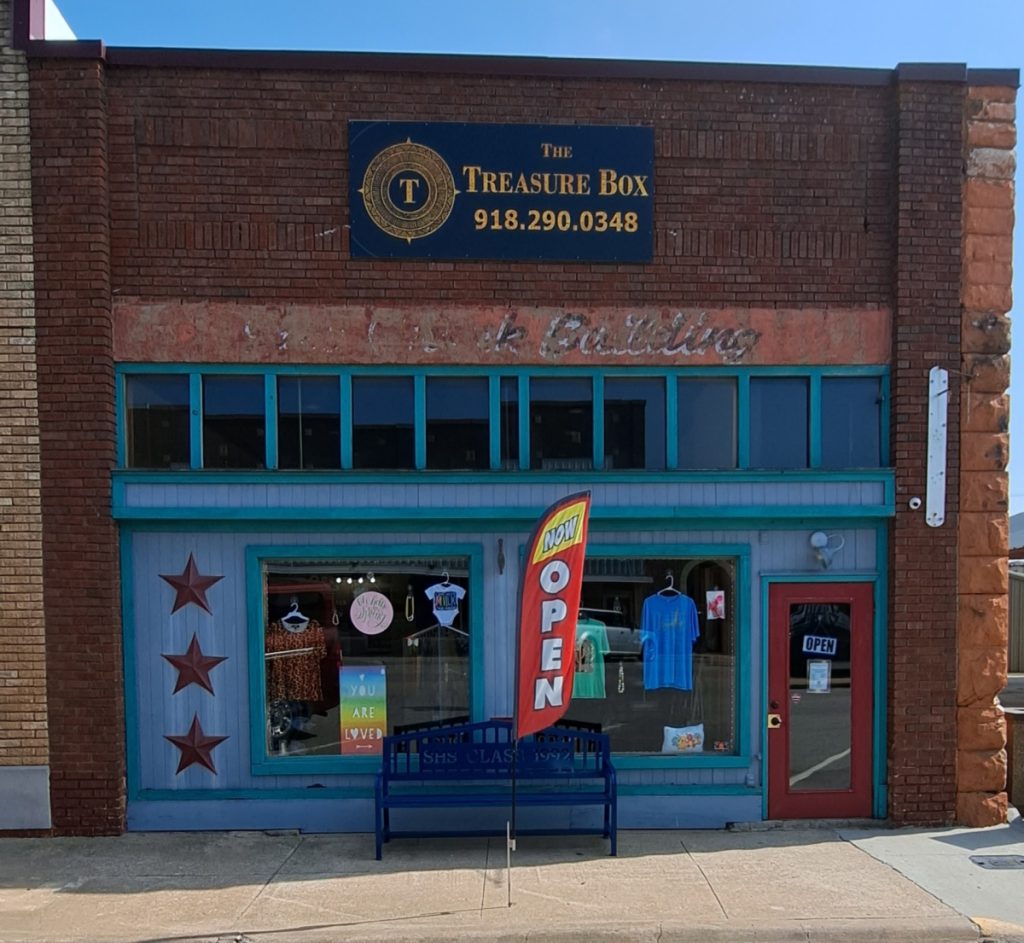 The Treasure Box
By Lakisha Meade, Citizen Potawatomi Community Development Corporation Grants and Finance Coordinator
"Stroud Proud" is a slogan that you will become familiar with if you visit this progressive community more than once. Stroud, Oklahoma, has a population of approximately 2,700 and provides all of the downhome qualities you hope to find in a small town. The city's main street, called Third Street, was the first marked highway across Lincoln County. This part of historic Route 66 was a dirt road until 1924. While there are many lovely shops to visit while strolling through downtown Stroud, one in particular stands out.
The Treasure Box, now located at 318 W. Main St., is where Michelle and Trent Whitson decided to move their growing business.
Michelle Whitson is a proud Citizen Potawatomi Nation tribal member of the Wano family. She was born in Texas and grew up in Stroud, Oklahoma. She married her husband, Trent Whitson, in 2013. The two got involved with foster care and adoption and now have seven children.
"Working for myself has allowed me to be a mom first and still give back to our community," Michelle said.
The Treasure Box offers a variety of items, including jewelry, boutique clothing, home décor, skin care products, children's clothing, games, toys, collectibles and more. The idea came to her while going through her kids' closets for the 10,000th time. She and her husband wanted to open a store for their small community and offer something the town did not currently have.
As if starting a business was not challenging enough, the Whitsons went through the startup right at the beginning of the coronavirus pandemic. They had originally hoped to open their store in April 2020. However, the unexpected pandemic put a slight stall on their original plans. With persistence for their dream, they kept pushing forward. In June 2020, they were able to open their brick-and-mortar store but not without some concerns due to the current economy.
Originally, they started at 413 W. Main St. in Stroud. This was a small shop with limited space, but it was the beginning of their success today. They sold children's consignment clothing in early 2020 but longed to do more. They wanted to pave a way for their community members to earn some extra income that were finding themselves without work due to the pandemic. With many people now spending far more time at home than usual, they were picking up hobbies and finding peace in crafting. The Whitsons' idea of wanting to allow local vendors to sell items in their store was in the making.
"We wanted to offer people without jobs a place to be creative, follow their passion and turn their dreams into something that could make a profit," Michelle said.
They began adverting this opportunity, and it took off. The Whitsons provided a physical space for others in their community to begin or expand their business while also building their own. Soon, a larger space became a necessity.
This Whitsons found the beautiful building located at 318 W. Main St. and moved in as soon as possible. They rented for a short time but really wanted to purchase the building. Michelle explained that her parents have owned their own business her entire life, and they recommended she check into the Citizen Potawatomi Community Development Corporation to assist in the purchase.
The Whitsons said their upfront fees were significantly less than if they financed it through a traditional banking institution. Michelle said the process was quick and easy, and that having one point of contact to go back and forth with was nice. They now have a personal connection with the CPCDC anytime they needed something.
"I am proud to be part of the Potawatomi tribe, and I love that my business was financed and purchased through my Tribe as well," Michelle said.
Find out more about the Citizen Potawatomi Community Development Corporation at cpcdc.org or visit them on Facebook @cpncdfi.